This is a very special time of year for me when New Age Mama comes out in full force.  It is the Aries New Moon - the astrological new year, so to speak.  A ritual that I began for the first time last year was to make what is called a "treasure map" - a visual collage of your intentions for the coming year.  I guess this concept was popularized a bit in The Secret with the "vision board."  It's basically the same thing.  
As far as I am concerned, I can never have enough ritual in life.  It's one of the ways I connect with life's sacredness.
Here is last year's treasure map:
Looking at it, I smile.  I didn't write a New York Times bestseller, nor did I get on Oprah, nor did I sell my house for big bucks.  The trip to India?  Did not materialize. (I did have an exciting overseas adventure, though).  
But many of the concepts in it have unfolded for me.  And stuff "coming true" is not the point. For me, there was something incredibly powerful, incredibly indicative of self-love and kindness, to sit down and make a collage of the things that mattered in the moment, to dare to make my most internal dreams manifest in a visual way.  
Some of the stuff did "come true:" I did work from home for much of 2008. Romance: there was a bit (though most of it was short-lived).  Hey - it was fun while it lasted.  A visit to Portland happened, too.  A "lucky break" happened with me getting the first full-time job I applied for last fall.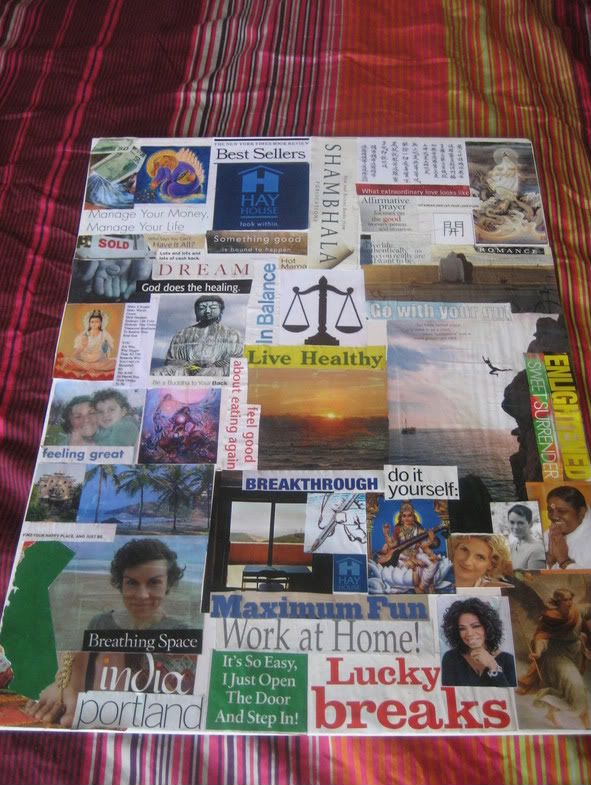 Being in balance: something that's at the center of the map.  I am pleased to report that I am not any more balanced than I was last year, and it's of course not about getting to some state of perfect balance.  For me the practice was about simply noticing where I was shifting off balance and being aware, sometimes compassionately, even.  That is major for me.  I also did heal a lot of my issues around food and body image.  In 2006-7 I went from an unhealthily high weight (for me) to an unhealthily low weight (for me) and I feel like now, I am coming into balance around that.  Which is worth taking stock of.  
I do feel that "breakthrough" that is represented on the map.  At the time, I had no idea what it would be. But at the end of this winter, as I have written about, I feel as if I have emerged from a long hibernation, and am reclaiming former selves I discarded (artist/activist).  I've gotten tremendously excited about political organizing again, and this morning I just got word that I am going to be funded to do the spoken word CD!  On the very first ask.  
It's really going to happen now.  All the resources are lined up…and I'm ready to make it happen.
For this year's treasure map, I'm now going to let myself brainstorm some phrases and ideas stream-of-consciousness style.  I haven't started on it yet but will be working on it over the next several days. Hopefully I will be guided to the words and images to express these ideas.  
Connection, humility, magic, undreamed-of possibilities, gratitude, the earth, expansiveness, the waves, open-heartedness, creativity, poetic license, organizing/activism/artivism, romance (what can I say? I'm a love junkie), a nonprofit, limitlessness/boundlessness, groundedness, freedom to pursue what I love, simpler life, in alignment, authenticity, equanimity, "word warrior," health and happiness for Sami and me, financial freedom, radical departures, inspiration, bright faith. 
On this Aries New Moon, I envision good things and I dream utterly grandiose dreams.  What will "come true" and what won't?  It doesn't matter.  All we have is this moment - who am I kidding, anyway?  But in this moment, I heed the advice of a wonderful astrologer, whose New Moon columns I read monthly:
Aries says, "I can!" with a level of faith that only an innocent child who has not yet failed can muster. When you do your New Moon in Aries ritual, your heart and mind must be centered in an open attitude of excitement—"let's go," or "I can do anything," or "I can be anyone," or "the world is my oyster," or "life is an adventure!". This is a New Moon that asks us to take a leap of faith and do the impossible. Bring a sense of wonder, magic and first-time awe to your self-conceptions. Go find out who you are and what you want; you might just be surprised.